Mullumbimby Community buys Telstra Site in Town
Magic happens in Mullumbimby:
On Friday 22nd of February Byron Council successfully purchased the old telstra depot in Station St Mullumbimby
A spontaneous roar of delight filled the old Telstra depot last Friday as the auctioneer's hammer reclaimed the site for community – thanks to Council's GM Pamela Westing's winning bid.
Locals and their banners "Give it back to Community" and "Support our local economy" packed into the old fibro building, outnumbering the unfamiliar figures in immaculately ironed shirts and ties. Overhead the wonky fans whirred frantically, the auctioneers voice went faster and higher, quipping with the crowd whilst upping the ante. "Go Council" was the call each time they bid, excitement swinging to dread and back again as our GM battled with the man from Woolworth's. "Woolies Go Home" yelled a voice from the crowd, and that is exactly what they did.
This was a major win for the Mullumbimby Community Action Group, formed just one month previously on Australia Day, 26 January. Returning this site to community was an idea which emerged from one of our three public meetings – thus preventing Woolworths expanding their stronghold from the adjoining site, and impacting the entrance to our town.
MCAG member and ex-councillor Duncan Dey organized an urgency motion to be tabled at Byron Shire Council's meeting, and Deborah Lilly, co-ordinator of MCAG – buoyed by community spirit and intention – seized the public access opportunity and addressed council. After some heated exchanges, councillors voted 4-3 to investigate their options, and just one week later, made the winning bid!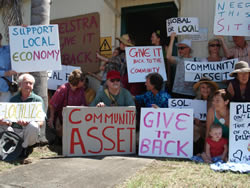 This was really fast moving by Byron Shire Council to restore the site to community – and an extraordinary demonstration of the power of the people to preserve a strategic position at the entrance to our town.
Our main goal is to stop Woolworths coming to Mullumbimby and create a local model of sustainability – a "Mullumbubble" of local initiatives, local products and dollars circulating locally to keep our community buoyant, healthy and happy!