Kevin Rudd and Justine Elliot take a Dunk at Brunswick Heads Climate Rally
In a surprise appearance, Kevin Rudd and Justine Elliot turned up at the Byron Shire's Climate change rally in Brunswick Heads yesterday!.

After an on stage interview they jumped into the water and sank up to their necks to demonstrate their commitment to alleviating climate change and rising sea levels.


Actually Justine and Kevin were played by Susanna Flower and Russell Eldridge, holding masks. The interviewer was James Brown. The comedy sketch gave a lift to the program lifting people's sprits.
Climate action day at Brunswick Heads was a prelude to the People's Action Climate event timed to happen on their first sitting day of The Federal Parliament on 2nd February.
Cr. Basil Cameron opened by emphasising how serious the climate change sitiuation is. Other speakers included, Dr. Mark Byrne (EDO), Deborah Lily (MCAN), Cr. Tom Tabart, Karin Kolbe (TOOT), Judy McDonald Bob Oehlman (CONOS) and Dailan Pugh (BEACON).
Cr Basil Cameron described climate change as the most urgent crisis facing this earth in our time. The purpose of this gathering and "The National Day of Action" is to give a loud and clear message to the Federal Government that action so far has been completely inadequate and already the community expects more action NOW.
However there is also a wide range of action that can be taken by individual and local communities. For example making investments in renewable energy and public transport now is surely better than waiting until drastic and uncomfortable action is forced upon us later. Planting trees and building communities now helps make the world a better place for future generations.
It is vital that action is not deferred to protect polluting and unsustainable interests.
Foot Soldiers of the Energy Revolution
Dr Mark Byrne community education officer with the Environmental Defenders Office spoke about the EDO's role in educating the community about climate change. He went on to describe the urgency of the upcoming Copenhagen Climate Conference later this year. He said that looking around here today with the sun shining, no bombs going off, we are not starving, and the ocean is comfortably at its usual level, it is hard to imagine that we may be facing a global catastrophe.
On the website of The United Nations Framework Convention on Climate Change there is a clock ticking down to the conference in Copenhagen. Today it is 309 days away. It emphasises how important this conference is going to be, possibly the most important since the allies got together in Yalta in 1943 during world war two, when the allies worked out how to carve up the world after the war. It is possibly the most important conference in the history of the world. This is because the countries of the world must come to an agreement over how to deal with the issues of climate change.
It is now becoming obvious that we may have less than a year to avert dangerous climate change, so Copenhagen must be a global agreement, everyone must sign on and agree to cuts in emissions. These cuts must be significant,
25% by 2020 ,
40% by 2030
and 60% by 2050.
Cuts must start as soon as possible.
Mark said that even though it seems unlikely our politicians will take the right action, we can take heart that political miracles can happen. Like East Timor gaining independence from Indonesia. This looked impossible in 1989 but by 1999 they had the referendum and gained independence.
This Year is It
Tom Tabart (Byron Shire Councillor) known for his direct manner, started his address with the words, "This year is it, take action or we are stuffed". Even more frightening is that the economists are leading the scientists. I went to a think-tank on climate change in Melbourne for the state of the environment for local government, recently. The meeting was concluded by Dr. Brain who summed up by saying, that we need to put the economy on a war footing within twelve months, or we are in deep trouble. That means rationing of petrol, food and energy. I fear for my children and grand children.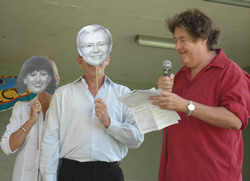 Why are people and the politicians turning their backs on this crisis? Climate change/global warming is the ONLY issue, They are worrying about the financial meltdown , a while ago it was peak oil. These are worrying, but climate change will engulf the lot. The mindset of the politicians in both Australia and the rest of the world is that they think they can put off action for a year or so hoping that they buy time with business as usual.
Deborah Lily spoke about Woolworths in Mullumbimby and the climate change impacts, (see separate article).

Karin Kolbe stressed the vital role of rail transport in reducing carbon emissions and the use of trucks.
Judy MacDonald Manager of the New Brighton Farmers Markets spoke about the importance of local food production and buying local.
Finally Kevin Rudd and Justine Elliot had to be "helped " from the ocean.