The Caveat: Sovereign Law and the Woolworths Site
A gathering of indigenous elders, locals and visitors took place around the sacred fire in the Mullumbimby 'occupied territory' (the park next to Byron Shire Council Chambers )yesterday. Concerns have been raised about the legitimacy of Woolworths' excavations on the nearby site which have been done without consultation with local indigenous people.
Uncle Harry, spokesperson for the group, who was born in the old Mullumbimby hospital in Stuart St., opened the meeting. An ancient carved boomerang was passed around as a talking stick. Each speaker was united in the opinion that the Woolworths attitude to Mullumbimby has been lacking in respect.
Spirit Walker Ngangkari

Then the meeting was handed over to Jagamara (not sure of spelling) a shamanic-like man, dressed in black with a white jacket and very visible red scarf and a necklace which appeared to be of bone and claw-like shells.He introduced himself as a law man , an initiated man, a red ochre man and spirit walker, ngangkari. He ceremoniously laid down a bundle in front of the fire and knelt down to unravel a wallaby pelt which had been painted with aboriginal designs in blood red, yellow ochre and black.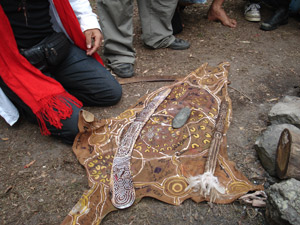 Within the skin was a very large boomerang decorated with round white markings, and a stick decorated with burn marks and feathers. He held together his boomerang with that of another man present; a symbolic joining. He then began to wipe his hands alternately on the pelt, his face, arms and even armpits as if he were washing himself with the energy of the pelt. He stood and spoke with a great authority, in a hypnotic song-like voice of the salt water and freshwater stories, stories of the past and where our mobs were killed and where our children were taken. He said he was under the impression there were burial grounds around here and that the buried are the people he works for; message story runners who run to bring questions and answers.
Original not ab-original

"This is not crown land, never was and never will be" he said of the Woolworths site. "We are not ab-origine, we are original, we are from this place." He further explained that the camp in mullumbimby is not an embassy because embassies are for people from somewhere else. "Sovereign means place and source of all authority and that means we are kings and queens on our land" he said. He also stated that a caveat costing $56 had been arranged, under sovereign law. He went on to say that $950m worth of land in the middle of cities, the main one being Sydney, had been saved; implying that he had been involved in stopping development on these lands.
Jagamara (not sure of spelling) and the elders then retired into the large colourful tent, seated in a circle on the ground, to discuss the details of the caveat and the treaty which was to be signed on the wallaby skin, the official skin, rather than A4 paper which denotes admiralty law and British rule. This is indigenous parliament, he said.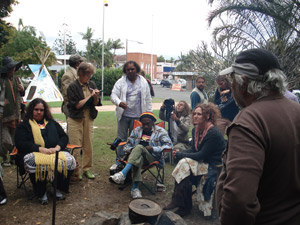 Another topic is whether the law is held to be sovereign, that is, whether it is above political or other interference. Sovereign law constitutes a true state of law, meaning the letter of the law (if constitutionally correct) is applicable and enforceable, even when against the political will of the nation, as long as not formally changed following the constitutional procedure. Strictly speaking, any deviation from this principle constitutes a revolution or a coup d'état, regardless of the intentions.
Notes:
Ngangkari are the traditional healers from central Australia .Especially the Anungu and the Pitjanjatara people.