Food Miles the Movie
Local film maker Susie Forster has written and directed a 5 minute movie about food miles. Starring local teenagers Lucy Serret, Juanita Ebbs and Heiti Miller (pictured) the film depicts a growing awareness in our community about the connection between global warming and the long distances food travels to reach our supermarkets.

Food miles is a term that describes the distance food has travelled from paddock to plate and is a way of assessing the environmental impact of the food we eat, or carbon foodprint. "It's carbon emission madness" says one of the girls, referring to the trucking of food around Australia and its import from overseas.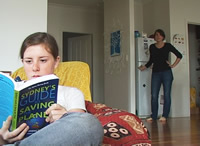 Set inside a suburban home, the soundtrack of the movie features local musicians Black Deck Rehearsal and a background rumble of trucks which brings home the immediacy of our reliance of road transport and centralized distribution networks.
A collaboration with the Byron Film Artists Co-operative, the film is a refreshing look, from a teenage perspective, at how our food choices affect the world we live in. It can also be viewed via a youtube food miles search: "Where does the food we buy come from?"
The idea for the film came about after Deborah had a discussion with her son, living in Indooroopilly, Brisbane, where Woolworths monopolise the sale of food because competition has all but disappeared. She asked him to check his pantry and tell her where the food came from and was shocked to hear that pasta and tinned tomatoes came from Italy, baby sweet corn from Thailand, sunflower oil from Malaysia - in fact most of his packaged food came from overseas with the exception of flour and oats. This discussion brought home the inescapable reality of food miles in the lives of most Australians. Deborah and Robert Hart (our webmaster) then came up with the idea of making a short film around food miles, CO2 emissions and global warming in a way that teenagers could relate to.