Rock the Gate Coal seam Gas Rally 13th October 2012
Lock-on the CSG-FREE movement! Mother Nature turned on a beautiful day for 7000 or so yellow clad CSG-Free Northern Rivers supporters at Murwillumbah on Sat 13 October. The colourful procession ribboned around 2 blocks of town, almost joining the tail end of the march as the leaders returned to the showgrounds.
A blood-curdling vehement rejection CSG in the region by traditional owners followed the welcome to country. Various speakers included Annie Kia, the strategic coordinator for CSGFree Northern Rivers, who acknowledged each of the communities who had surveyed their regions and declared them gasfield free, inspiring all to come on board and join this escalating social movement.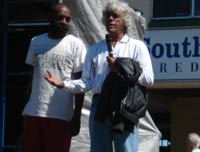 Brian Monk from SE Queensland tore our hearts with the experiences of his grandchildren, especially Little Jase, who have copped the very serious health consequences from living in a gasfield; his neighbours were taken in by the miners' rhetoric and his farm is surrounded by gaswells. Their borewater is now poisoned causing burns to the skin. The air causes respiratory problems and epilepsy is now rife in the community. Search GAS-WAR – you tube to see him. See also Drew Hutton on Condamine River coal seam gas – you tube.
Local beautiful songstress Natalie Pa'apa'a of Blue King Brown eloquently exhorted us to become involved, urgently, finishing her speech with a passionate rap song.
The crowd bravely baked in the strong sunlight and welcomed each speaker, the last being an 8 year old girl who brought tears to my eyes with her commonsensical approach to the insanity which is CSG, inviting us to chant with her and yelling "hey, you can do better than that, chant louder!" which induced a spirited response.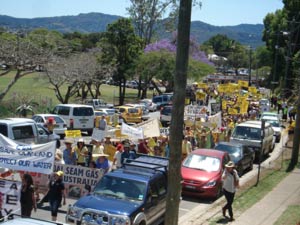 Community engagement and solidarity was the flavour of the day – from the bloke who offered to fix the poles of my banner, another who lent me a hammer, networking, name collecting for the CSG Free Byron Shire Group to the little baby who crawled into my lap and enchanted me with her smiles. This is community cohesion - the only thing which will protect our region.
Please sign on to our newsletter (see menu on left of homepage) for updates of CSG free Byron Shire.