Woolworths Station Street Blockade: six months on in Mullumbimby
Woolworths' contractors Waltons have now started work in Station Street, nearly six months after they were scheduled to start on the 7th June. Throughout this time the street has been barricaded, stopping public access to a public space, causing traffic congestion and upheaval.
The reason for the delay, cited by Andrew Corbin of Waltons was a) Byron Shire Council's survey was inaccurate and b) the weather. How can it take contractors 6 months to find some sewage pipes under a narrow street? The job was due to be finished by 29 August.
Why is Woolworths using a public street as a building site?
Or did Woolworths just want to use Station Street for their own convenience; storing concrete pipes, piles of fill and big machinery whilst exercising clout and annoying the hell out of locals. They are now scheduled to finish the work at the end of February – taking nine months instead of the scheduled 3 months. Should Woolworths pay for this commandeering of our infrastructure?
Cr. Basil Cameron will be tabling a Motion in Council on 2.12.10 to get the barricades removed for Christmas holiday period.
Come along to Public Access between 9 & 10 am and raise a question or leave a comment below. Alternatively call Walton's spindoctor Andrew Corbin who is "willing to speak to anyone" at 0407 684 649.
Recent comments from residents and visitors
Opinions about this blockade were gleaned from market goers and Burringbar Street shoppers, including one from political analyst Mungo McCullum who said that it was "... theft of public property and shouldn't be allowed".
• "It's a disgrace! I can't understand why Council allowed it, particularly the fencing off around the Poinciana [cafe] and Milk & Honey. There is no need for that and they have no right to do it. If they were really just working on the road, it would be OK, but they are not. It seems to be to keep people out rather than them needing a space to work in. It's theft of public property and it shouldn't be allowed". (Mungo McCullum, Mullumbimby).
• "It's ridiculous. It's beyond ridiculous. Antisocial. It's about bullying and we have zero-tolerance to bullying in this society. How do we show our kids not to be bullied and they get away with it, just because they can." (Marion Russo, schoolteacher, Mullumbimby).
• "As you enter and leave Mullumbimby you can't avoid seeing this ugly fenced, jail-like structure blocking a major drive-thru road. It not only causes inconvenience but the site is always a reminder of how corporations can uglify a town without consideration or consent". (Majida, Mullumbimby).
• "If you park on the north side of Burringbar Street and want to go back [down the street] you are then forced to do a U turn across double lines, which is tricky because of the speed of the cars. It's hard to turn right at the top of Burringbar Street because of the oncoming traffic and if you do you have to do a really big detour. Half the population used to use the town by-pass down Station Street and now they all have to go down the Main Street." (Katrina Shields, Mullumbimby).
• "As a visitor to Mullum, the visual effect is CRAP! Remove it, reduce it and do it now. Stop stuffing your residents around like they don't matter when they pay your wages. (C. Young, Emerald, Vic.)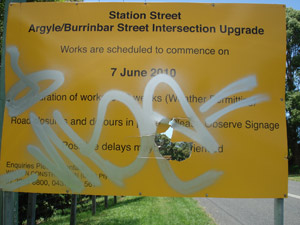 • "I resent the visual impact on my pretty little town. I resent the inconvenience of being denied access to homes and business and herded through the limited openings through the cage. I resent the impact on residents and business operator s who I know are more directly affected than I am. I resent the fact that this "temporary" construction appeared many months ago, long before construction on the Woolies site began. I resent the fact that both the development itself, and the cage, have been imposed without meaningful input on a reluctant community." (Lynne Wintergreen, Mullumbimby).
• "Why should our local community have to be inflicted with anti-social cyclone fencing? The 'cage' does nothing to promote community harmony or build trust in Woolies!" (Jake Wood, Mullumbimby).
• "That's not right" (Rick Morrow, Mullum Farmers Market).
• "Disgusting, total eyesore, very inconvenient" (Paula Kelly, Mullumbimby).
• "I don't like the way the government does not represent the people any more and take advantage of their position. Babylon rules out there; Woolworths is pure Babylon and Babylon must fall". (Jake, Mullumbimby).
• "It's horrible. A sight for sore eyes. You can't take the back road. It must be disgusting for the people who live there. Their houses would be devalued, along with the rest of the town". (Marguereet, Mullumbimby).
• "Woolworths should pay a fee and council could use it for something useful. Put pressure on them otherwise they do as they want." (Hielrick, Mullumbimby).
• "I live in Stuart Street and I'm absolutely fed up with all the big trucks taking stuff to the Woolworths site, up and down. My daughter counted 31 trucks in an hour. Kids play in Train Street. It's affecting our quality of life, all that heavy traffic and noise. There was no consultation or prior warning about the traffic [resulting from] the construction of
Woolworths. I think it's disgusting. No consultation. No warning." (Jennifer Allison, Mullumbimby).
• "How can a corporation possibly stop an access and exit road from a town? I used to use it as a by-pass and now Woolworths have come in. What right do they have? Can anyone else do that? We used to live in Prince Street and I'm so glad we got out of it. Woolworths have railroaded their way in, the whole town didn't want it." (Barrie Phee, Mullumbimby).
• "It's pathetic that the whole town is being disrupted with traffic". (M. Buivids, Mullumbimby).
• "Its causing a lot of confusion, blocking the traffic and its very hard for the locals to get into their driveways. Locals have a lot of problems". (David Soul, Mullumbimby).
LEAVE A COMMENT