Mullumbimby Living Food and Soil festival shows community is strong
The 2012 Mullumbimby Living Food and Soil Festival was a wonderful community event.. The weather was kind and the rain held off allowing all to celebrate community, growing food and connecting with the land and soil.
This year's festival which has changed its name from The Mullumbimby Food Festival, was a magnificent display of Byron's community spirit. There were so many things happening that it was not possible to see and absorb all the events and displays on offer. On offer were performances by local musicians, displays of local produce, the camp kitchen, workshops on topics as diverse as biochar, biodynamic agriculture, worm farms and weed control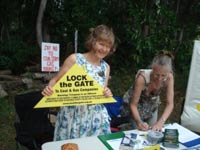 Deborah Lilly and other volunteers collected details of locals wanting to be involved in LOCK THE GATE MULLUMBIMBY and had signs, DVDs and information available.

Byron Mayor Simon Richardson said It is amazing how big and lush the gardens have become since starting as an empty cow paddock five years ago. This is a testament to the dedication and hard work put in by the garden members and the community. Community gardens are a powerful way of building local communities. Those who grow food together build strong bonds and enrich community spirit.
Alternative Energy Systems
As well as showcasing food and soil, the festival also featured several displays of alternative energy, such as the solar thermal display model made by Sapoty Brooks. This 30 mirror model heats a small tank of water to demonstrate how the process works. Smokefree camping stoves which provide biochar were available (see video) and other soil improving technologies were also on display.

There were also plenty of activities for children, including face painting, singing, and the competition for the best costume. Local musicians and drumming and salsa dancing and a spectacular hula hoop dance were also on the menu.