Mullumbimby Gets a Reprieve from the Woolly Mammoth!!!!!!
Hoorah for Byron Shire Councillors who voted yesterday to send the Woolworths sewage application back to the drawing board.

Moved by Cr. Tom Tabart, 6 out of 9 of our elected representatives have demanded that council staff answer 12 specific questions about the adequacy of the Woolworths sewer-on-a-bog.

In doing this, councillors have effectively delayed Woolworths construction of their massive supermarket in Station Street. This delay might even be until the new STP (sewage treatment plant) is built, as we do not believe that the sewage application meets the local, national and state standards, guidelines and policies.

The supermarket was approved by the Department of Planning on 12 January this year, but construction could not go ahead until Byron Shire Council approved their on-site sewage (s68) application – which they have not done!!!

WHAT HAPPENED? Here are the Details

In the Agenda last week, two options were given to the councillors regarding the Woolworths s68 on-site sewage application:
1. To follow the Precautionary Principle and vote "no" (this is what BSC recommended). By giving an alternative option, BSC implied that the Precautionary Principle is disposable.
2. To follow a "pragmatic risk-based approach" and vote "yes" to the s68 as long as Woolworths adopt the "draft consent conditions" annex 31(f).
Notice the language: "pragmatic" sounds so practical, and "risk-based" sounds exciting. In fact the option is very unpragmatic and very risky. The Consent Conditions are tough and Woolworths would have to jump through hoops as well as move the water mains from under the site, at their own expense. The only problem with having tough consent conditions is – who will be watching if Woolworths breaks their consent conditions?
If councillors had voted "no" then Woolworths would have gone to the Land and Environment Court. All they would have to do is show the judge the "Consent Conditions" which are a list of what Woolworths need to do, authorized by staff at Byron Shire Council, to get an approval for their on-site sewer-on-a-bog. Therefore both a "no" and a "yes" vote would have been a win for Wws.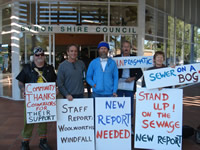 However, our smart MCAN wastewater experts smelled the rat. Garry and Duncan, in conjunction with Tom Tabart formulated 12 questions for council staff and Woolworths which demand to know how the s68 sewer-on-a-bog meets the standards/policies/guidelines of the local/state/national government. Tom put forward a motion to have these questions answered before councillors commit themselves to approving (or otherwise) Woolworths sewage application. We are confident that these questions cannot be answered (we will get them up on our website soon) so it may well be that the Woolworths development will not go ahead until the new sewage treatment plant (STP) is built, and that could be some years away. However, they are a wily bunch and goodness knows what they"ll come up with in the meantime.
Besides Tom, Basil Cameron seconded the motion and the other supporting councillors were Mayor Jan Barham, Richard Staples, Simon Richardson and Patrick Morrisey. Tom gave a lovely metaphor for the Woolworths sewage proposal; for it to work they would need "goat entrails and a PhD in Astrology". Jan spoke passionately about the influx of corporations into the Shire which we"ve worked hard to preserve, as well as expressing distress at the way local councils are being overridden by corporations and State Government; Basil said that asking the 12 questions was a "sensible solution which is the nuts and bolts of this proposal"; Simon described the options offered by staff as being like "being given a bucket with holes in it and being told to put out a fire. We will get burnt". He also mentioned there are cultural, environmental and social implications of having a Wws in Mullumbimby. Richard referred to the "silver bullet" product Wws propose that will supposedly clean/sanitise and not upset the microbes needed for the septic system saying that it would most likely contain large amounts of sodium, also detrimental to soil.
The Twelve Questions to Council Staff
1. Do the draft conditions meet or exceed all relevant regulations and guidelines including Local, State and National Standards, Guidelines and Policies?
2. Are the draft conditions likely to satisfy Clause 45 of the Byron LEP?
3. Will the draft conditions protect the environment and public health, as required under the local government act and regulations? Namely:
i. by preventing the spread of disease by micro-organisms
ii. by preventing the spread of foul odours,
iii. by preventing contamination of water
iv. by preventing degradation of soil and vegetation
v. by discouraging insects and vermin
vi. by ensuring that persons do not come into contact with untreated sewage or effluent
(whether treated or not) in their ordinary activities on the premises concerned,
vii. by the re-use of resources (including nutrients, organic matter and water),
viii. by the minimisation of any adverse impacts on the amenity of the land on which it is
installed or constructed and other land in the vicinity of that land.

4. Has the site and its soils been fully and adequately investigated and then assessed as
suitable especially including conditions of the alluvial clay soils to a depth of at least
1.5m (or more where a water-table is indicated or encountered)?
5. Can a design area suitable to maintain water and nutrient balance in the OSMS (1157m2 was proposed) be achieved safely on the property after buildings, hardstand,
service conduits, the OSM treatment system (tanks, sand filter, etc) and all other
unsuitable areas are excluded from use and with suitable buffer distances to them and to
boundaries and features off the property such as table-drains east and west of the
property?
6. If buffer distances smaller than the 3m/6m as required in Council documents are
considered, can Council's assessment include certification by the assessing officer that
such compromises will fully protect the environment and public health?
7. Is the proposal likely to achieve its water and nutrient balances in soils at sufficient
height above the water-table – which is known to be at ground level on the property for
significant periods?
8. If heights above the water table of less than 1.2m as required in various documents are
considered, will Council's assessment include certification by the assessing officer that
such a compromise will fully protect the environment and public health?
9. Could the proponent be requested to supply a maintenance and operation schedule that
details the skills and hours per year of the on-site and off-site operator(s) of the OSMS?
10. Could these operation details include procedures for closing the supermarket, both
short-term and long-term on failure of the OSMS?
11. Could the stringent restrictions proposed on quantities of cleaning water and of cleaning
agents be certified by the appropriate State food authority as adequate to protect the
health of customers and staff at the supermarket?
12. If this Draft consent were adopted would it be a precedent for ignoring Council's Policy
No. 5.59 on pumpout of effluent? (Tabart/Cameron)