The Buzz of the Mullumbimby Farmers Market
Mullumbimby Farmers market buzzes! "This how Mullumbimby residents like to shop" says a marketgoer in this video. It�s a feast for all the senses; from the first glimpse of the colourful tents, the textures and hues of the just-picked fruit and vegges, the sample tastes of various inventive dips and spreads made from local produce, aromas of coffee, orchids and beeswax, and sounds of music and happy chatter make a visit to the market a unique and satisfying experience.
Mullumbimby has really come into its own; local growers and local community supporting each other. Everyone benefits, as those that make the food products buy their ingredients from the farmers. The cash flow is circulating locally, and the Local Multiplier Effect (check this in google) means that every dollar spent at the market contributes to the financial health and resilience of Mullumbimby.
As the taste of organic food and just-picked flavours become more widely appreciated and the demand grows, so too will the numbers of our growers grow! Contact this website if you have a business idea you'd like to incubate.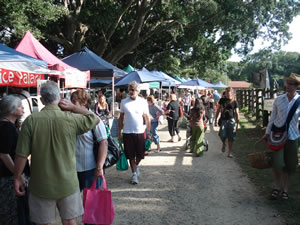 A bit of history – just 2 weeks after Mullumbimby Community Action Network (MCAN) was formed in January 2008, the Telstra site in Station Street came up for sale. With its prominent position at the entrance to the town and just metres from the proposed Woolworths Big Box, MCAN successfully lobbied Byron Shire Council to bid for the site at an auction, with a view to using the site for a farmers and general market and to provide a social hub. (see interview-giovanni-ebono-with-deborah) The Showgrounds, with its 22 acres of open space and well established trees, has instead, become the marketplace. Thanks especially to Judy MacDonald, David Piesse and all the committee members for their vision and hard work in creating the market.
Bring your own basket and bags as marketeers like to minimise packaging as well as food miles. See you there!!